Paul Kirkland BSc is the Clinical Director at the Hartland Podiatry Clinic of Wantage, Oxfordshire. In his role he is mainly responsible for the medical side of the clinic. This also involves scanning the market for medical solutions that can help the business grow. Since the beginning of 2018 the complete solution of LFT is integrated within the clinic. Kirkland gladly tells more about his experiences with the system.
Specialist bespoke orthotic service
For many years Kirkland was looking for a specialist bespoke orthotic service. Kirkland:
In the past we offered an off-the-shelf product, which was quite restricted. It wasn't individually manufactured around the patient's anatomy. And it wasn't particularly flexible to cater for a range of orthopedic problems.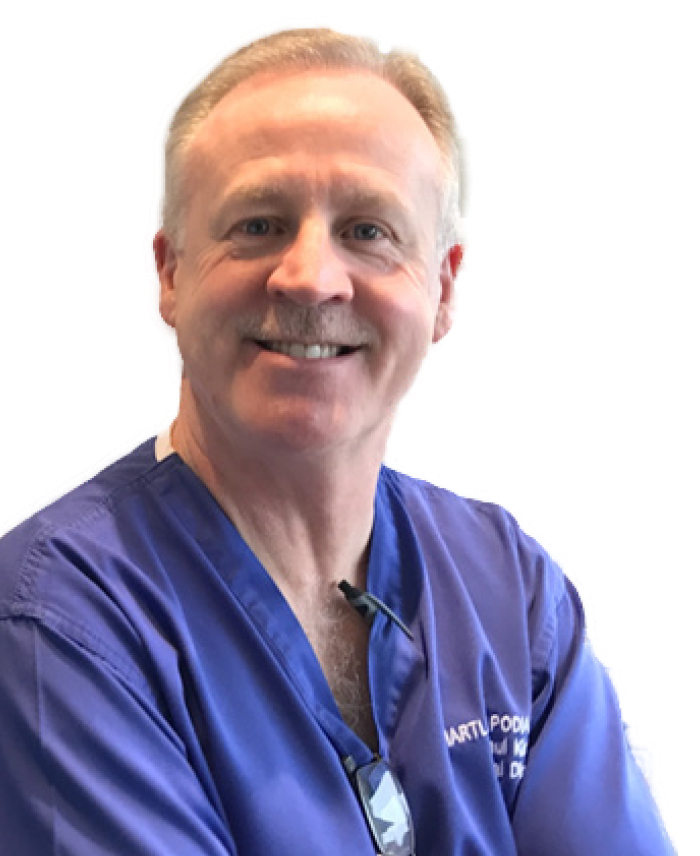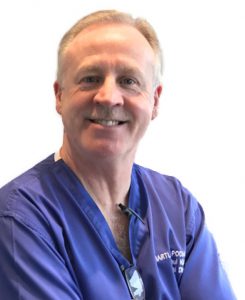 During his search for a bespoke orthotic service, Kirkland set many criteria that were hard to meet: "Any system had to offer hardware and software that was easy and quick to use, accessible and knowledgeable customer service, provide a high-quality product and that the system was versatile in order to adapt to individual requirements."
Paul Kirkland,  Clinical Director at The Hartland Podiatry Clinic
UK Private Podiatrist after using our complete solution. After few weeks of using orthotics for a wide range of foot problems.
Professional and easy-to-use system
Via a national supplier (Canonbury), Kirkland was introduced to LFT. When specific information about the complete solution of LFT was provided, Kirkland looked forward to trial both the 2D-Scanner and the OrthoPodoManager software. "We were keen to see what the scanning device entailed and what the software package involved." Kirkland specifically looked forward to an easy-to-use system that would not require a lot of technical knowledge: "What we didn't want was a complicated system that would require a lot IT input and a lot of clinic time to design an insole."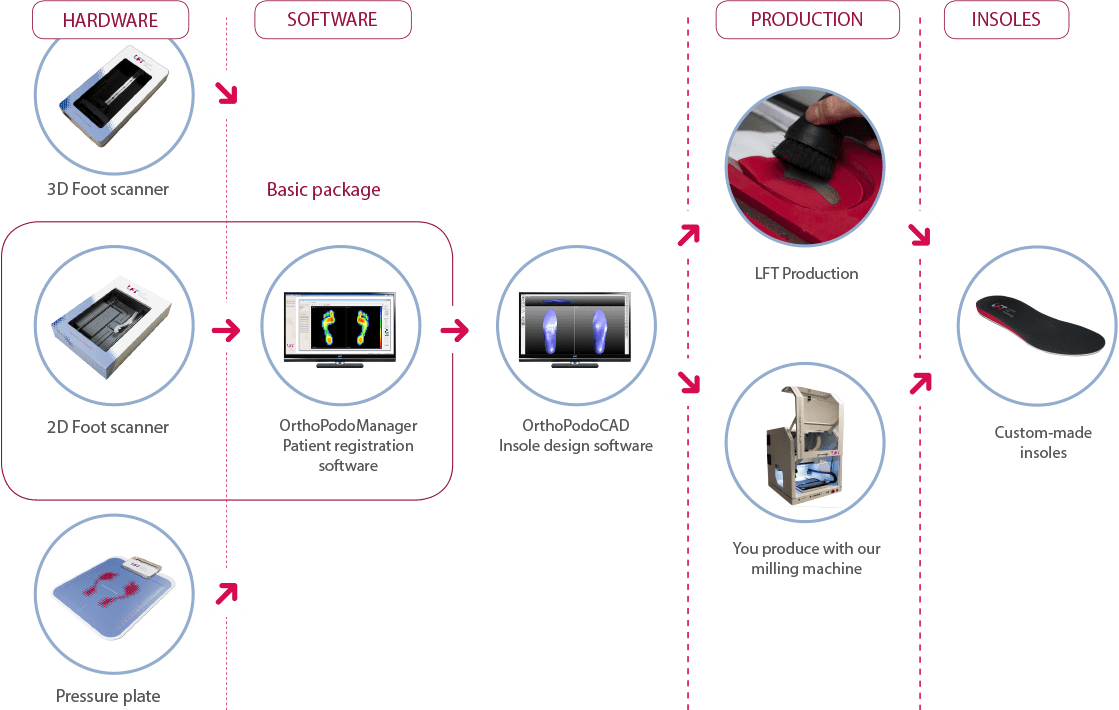 3D Foot Scanner
2D Foot Scanner
Pressure plate
OrthoPodoManager
OrthoPodoCad
LFT Production
Production with our milling machine
Custom-made insoles

Hardware
Software
Production
Insoles
According to Kirkland the complete solution of LFT ticked all boxes from the beginning. "The hardware was delivered very promptly. And then the installation of the software was remarkably easy and extremely well supported. We had a telephone conference call with LFT. They connected with our IT and downloaded everything. I'm definitely not an IT expert, but this process was very easy. Everything was handled very well."
Designing the first bespoke insole
Of course, not only the installation process should be easy, also the functionality of the hardware and software is of great importance in any private clinic. Kirkland has nothing but positive words about the usability of the hardware and software. The customer support team of LFT gladly helped Kirkland place his first order: "For that first pair we did go through everything with the customer services team, just to make sure we got it right. Their help was mainly a reassurance for us that we could find our way through the process properly, before hitting the send-button."
Kirkland is very impressed by the customer service provided by LFT: "Their responses are always rapid, whether it is via e-mail or telephone." He continues: "Another amazing thing about LFT is that they have their own in-house podiatrist. If you have more medical related questions, you have access to someone that is medically qualified. That makes a big difference."
User-friendly hardware and software
Performing a foot analysis could be a time-consuming process in the past. With the modern foot scanners of LFT Kirkland should never have to worry about this problem ever again. "The patient only has to stand on the scanner, and within moments the scan is taken. It is a very quick and user-friendly process." LFT offers three different foot scanners: the 2D-Scanner, 3D-Scanner and Pressure Plate. This hardware will enable podiatrists to perform (static and dynamic) analyses of their patients' foot conditions easily, quickly and with great precision.
The best solution for your patients
After intensive usage Kirkland now says the complete solution of LFT is "The best bespoke system we've ever come across". The most important factor for Kirkland is how the custom-made insoles solve the problems of the clients that visit the Hartland Podiatry Clinic. "The additions and the inserts that go on an LFT orthotic, from an anatomical perspective, would go in the exact right place for each individual patient. In terms of comfort and the functionality of the insole, it simply takes it to another level. We are 100% satisfied about the quality of the bespoke insole. And from a patient perspective equally so."
Save time and generate more revenue
Not only Kirkland can now offer his patients the best possible treatment for their foot conditions. The complete solution of LFT also offers great value in other ways to the Hartland Podiatry Clinic. "This high-quality specialist system is so easy to use. We can place an order within minutes. So it is not a time-consuming system, which frees up time within the clinic that can be spend on other relevant activities." He continues: "And the system clearly is a good revenue generator. There is also no doubt about that."
Kirkland is totally convinced about the value of the custom-made insoles created by LFT: "We even stopped providing pre-fabricated insoles tot patients, unless the client specifically wants a particular prefabricated insole. LFT simply offers a much better quality level of orthotics." Kirkland is also very clear about his future plans: "We will definitely continue working with the LFT system within the Hartland Podiatry Clinic."
Discover all benefits for your podiatry clinic
LFT offers podiatrists a complete package of hardware, software, training and services to help you create custom-made insoles for your clients. Our complete solution offers you more time to focus on your company, to build relationships with your clients, and to solve their foot-related problems. Do you also want to discover how valuable our complete solution can be for your podiatry clinic? Then quickly fill in the ROI Calculator and discover how you:
Receive a higher profit margin per insole
Have more time to focus on building relationships with patients
Have more time to solve your patients foot conditions
Can maximize revenue and grow your business