Bespoke insoles or prefabricated insoles can often be prescribed when (severe) foot-problems are diagnosed. Both can work as a prevention or solution for different kind of foot-related injuries. And both type of insoles seem to have certain pros and cons. But when your patients experience chronic foot pain, as a podiatrist you might wonder which insole is more effective. Learn everything you need to know about custom-made insoles and orthotic insoles in this blog.
The perfect insoles for your patients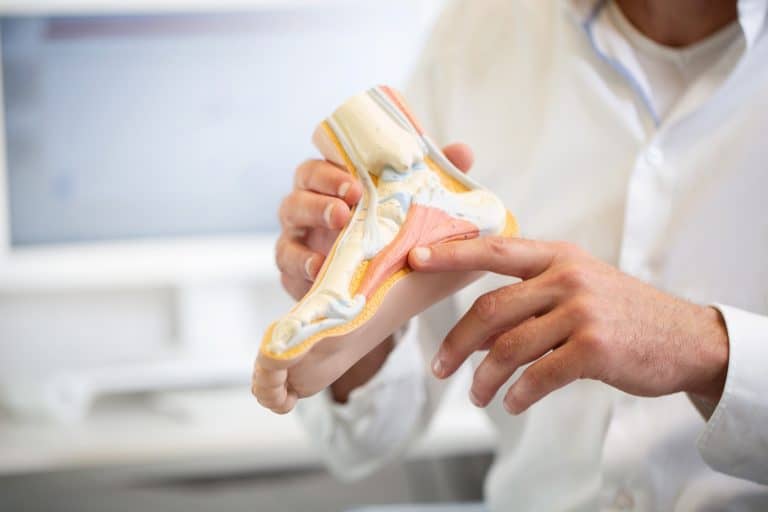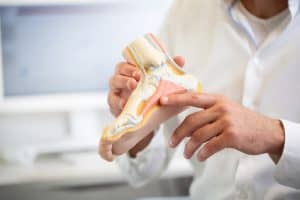 When your patients experience serious foot-related problems, they hope a solution arises as soon as possible. In many cases, insoles can fix their foot-related injuries. When you are the lookout for which insoles to prescribe, you might notice there are two types of insoles: custom-made and prefabricated. Both seem to offer a perfect way to solve all kind of foot-related problems. But is this truly the case? While prefabricates insoles seem to offer a solution against many injuries, they are in many cases far less effective than bespoke insoles.
And the reason is simple:
Bespoke insoles are made for your patient's feet, and their feet only.
Custom-made insoles
Bespoke insoles are always prescribed by a doctor, podiatrist or orthopedic surgeon. These custom-made insoles are designed to a specific foot and gait. Because of this, it is necessary for a client to undergo certain examinations and analyses. In current times, a digital scan is the perfect way to easily analyze the size, structure and shape of their feet.
At LFT we only make custom-made from the highest quality materials. We have developed over one hundred combinations of materials that shape perfectly to your patient's feet. This results in professional insoles with an excellent fit. Our insoles are fully personalized and offer support to your patients' foot conditions and activities. They are even easily adjustable at a later stage.
Prefabricated insoles
While custom-made insoles are prescribed by a doctor, prefabricated insoles are more widely available. Over-the-counter insoles can be sold at places such as drugstores, fashion shops, sport outlets and even supermarkets. These insoles are designed for a 'standard' foot and don't count in the particular shape, size or structure of your patients' feet.
Prefabricated insoles are meant to work for all types of feet. They are often made from softer, lesser-quality material and don't require specific examinations or analyses. However, this also means they are often less expensive than bespoke inserts. Where custom insoles may cost hundreds of pounds, over-the-counter insoles can sometimes be bought for a fraction of this price. These cheaper insoles often also offer less support and don't take in account the specific foot conditions of the patient.
The scientific-proven benefits of bespoke insoles
It is often said that you can choose prefabricated insoles when someone suffers from minor injuries, and you only need custom-made insoles when the injury is severe. But is this true? For example, recent studies show that bespoke insoles, in comparison to prefabricated inserts, offer various advantages for normal usage, athletes and runners:
Custom-made insoles help patients to walk by offering support to prevent disease on pes cavus foot, and to relieve fatigue and burden on the lower limbs muscles.*
Custom-made insoles reduced the plantar loading under the medial and lateral heel by 31 and 54 percent, respectively, in comparison to prefabricated insoles.**
Even the slightest reduction in plantar loading may suppose a decrease in the overall stress experienced by your patient's feet. This means during (long-distant) running and walking, custom insoles can therefore function as an essential protective mechanism for plantar overloading.
The advantages of custom-made insoles
Custom-made insoles do not only offer great advantages to athletes and (long-distance) runners. Everyone can benefit from tailor-made inserts. By choosing for LFT as your supplier for bespoke insoles, your clients take advantage of many benefits:
Bespoke insoles offer the ultimate protection and comfort.
Design your own custom-fit insoles of the highest quality
Combine different materials to develop the perfect custom-fit insole
The ideal solution for both athletes and patients with medical conditions
Of course, the price of custom-made insoles is often higher than stock insoles. But the price your patients' feet pay when they wear non-fitting 'standard' insoles is much higher. The lower quality of these prefabricated orthotics can sometimes even result in foot-related injuries: exactly the thing you wish to prevent or solve with insoles.
That's why you should always invest in high quality insoles that have a fit perfect. Custom-made insoles bring joy to the life of your patients. With custom-made inserts you don't only offer the perfect solution to many of your patients' foot-related problems. You also prevent possible foot-conditions in the future.
Why choose LFT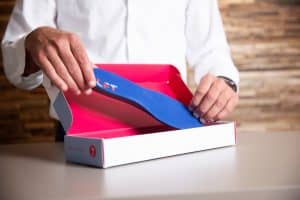 At LFT we offer customization as a service. We help to eliminate your patients' foot-related injuries with our custom-fit inserts. Our custom-made insoles prevent, support and alleviate foot conditions. These bespoke insoles offer a premium level of comfort that benefits your patients in their daily lives.
Foot-related issues can have different causes. This means a different type of custom-made insole may be more effective. That is why we use an extensive range of materials during the production of our custom-fit inserts. We can develop over hundred combinations of material based on EVA, cork, ESD and multi-layer shore combinations.
Since our bespoke insoles are fully customizable, it is even possible to add specific podotherapeutic, podological or orthopedic elements to the insole. You have full control over the type of density, damping effect, and specific support to the left or right side of the foot that our insoles offer.
Whereas prefabricated insoles can wear out within months, the custom-fit insoles of LFT stay in perfect condition for many years. Thanks to the use of MemoFlex, these insoles will support your patients' feet for an extensive period of time. Thanks to its high memory properties, our bespoke insoles retain their original shape for years. MemoFlex is the professional standard in milling blocks.
Solve your patients' foot conditions
Want to choose the best insoles for your patients' feet? Then the custom-made insoles of LFT are everything you need. Not only our custom-made insoles help to prevent and solve foot-related issues of your patients. You will also while doing so. At LFT we offer a complete solution that is tailored to your own practice. Our scanners, software, training and production services all result in the highest quality bespoke insoles for your patients. Do you want to offer your patients' the optimal treatment to solve their foot conditions? Then quickly contact us to discover more.
*Choi, J. K., Cha, E. J., Kim, K. A., Won, Y., & Kim, J. J. (2015). Effects of custom-made insoles on idiopathic pes cavus foot during walking. Bio-medical materials and engineering, 26(s1), S705-S715.
**Angel Gabriel Lucas-Cuevas, Pedro Pérez-Soriano, Salvador LlanaBelloch, Cecili Macián-Romero & Daniel Sánchez-Zuriaga (2014) Effect of custom-made and prefabricated insoles on plantar loading parameters during running with and without fatigue, Journal of Sports Sciences, 32:18, 1712-1721, DOI: 10.1080/02640414.2014.915422